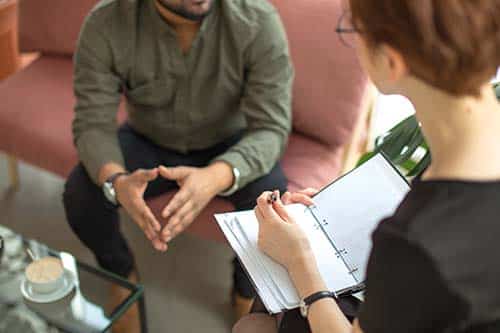 An outpatient rehab program is a treatment approach that doesn't require a long-term stay at an addiction treatment facility. This treatment serves as a flexible, effective treatment option, specifically designed for those who want to overcome substance abuse. This drug abuse treatment option is less intensive than an inpatient treatment program or a partial hospitalization program. However, it still offers a wide array of services and can occur in a variety of settings.
At Chapters Recovery Center, we're committed to providing a full continuum of care so that we can meet the unique and specific needs of our clients. With the understanding that addiction is an illness, we treat all of our patients with respect and dignity.
Are you ready to recover from alcohol or drug abuse? If you're looking for outpatient treatment programs in Boston or any other part of Massachusetts, we offer individualized care and support to help you achieve sustained sobriety. Learn how our outpatient treatment program can help you fight substance use disorder in your life!
What Is an Outpatient Drug and Alcohol Rehab Center?
Our outpatient drug rehab and alcoholism treatment allow our clients to live at home or in a sober living community while receiving treatment. Through our outpatient rehab program, our clients will attend treatment at our campus a few days a week. After treatment, our clients are able to return home to practice their newly learned skills and coping mechanisms.
For the convenience of our patients, we may provide weekend or evening sessions. We believe that doing this allows them to balance their need for treatment with their professional, familial, or personal obligations and responsibilities. With a variety of treatment options and flexibility, our outpatient addiction treatment program is an accommodating way to get the care you need in order to overcome addiction.[vc_column][/vc_column]
What Types of Outpatient Addiction Treatment Programs are Available?
At Chapters Recovery, we offer three distinct types of outpatient addiction rehab. No substance use disorder is the same as the next. We understand that each patient will require a different level of care. To accommodate the unique needs of each patient who would benefit from outpatient alcohol and drug rehab, we offer the following types of outpatient programs:
Traditional Outpatient Programs
These outpatient rehab programs differ mainly in the frequency of visits to a rehabilitation center. Moreover, each program is recommended based on the needs of patients suffering from substance use disorders. Overall, each type of outpatient program aims to facilitate long-term recovery in the patients who attend them, while allowing patients to maintain their busy schedules.
Traditional Outpatient Addiction Treatment
Traditional outpatient addiction rehab programs are the least intensive type of outpatient program. Compared to IOPs and PHPs, traditional outpatient care requires less time spent in a facility getting care. This can be a great option for patients who aren't experiencing a particularly severe substance use disorder.
Traditional outpatient is a program that some people choose to enter instead of inpatient because of minimal disruption to their daily life. In some cases, this type of treatment is recommended for patients who have just left inpatient treatment and need additional therapy and care. Additionally, traditional outpatient care may be a practical starting point for those who aren't sure what type of treatment they can accommodate into their busy lives. Further, if a patient finds they need more intensive treatment, they may always escalate their care to an IOP or PHP.
Intensive Outpatient Program (IOP)
An intensive outpatient program is a step up from traditional outpatient care. In this type of outpatient addiction rehab program, patients usually attend treatment three to five days a week for three to four hours per day. Similar to traditional outpatient, this program is a great option for individuals in recovery who have already completed inpatient treatment or a PHP and need continued support.
An IOP can be described as a combination of an inpatient program and traditional outpatient treatment. Patients are provided with structure, support, and addiction education throughout the extended hours they attend treatment.
Another benefit of an IOP is that it's often less expensive than either PHPs or inpatient care. This can be helpful for patients who are hesitant to seek care because of the cost of rehabilitation.
Additionally, an intensive outpatient program provides the structure and stability that many people need as they continue on their road to recovery. This is accomplished through the different types of therapy provided in intensive outpatient programs.
For instance, patients are given individual counseling several times per week during visits. Therapy such as group sessions and even family programming are also available to provide patients with family support and a community that understands their shared struggles.
Partial Hospitalization Program (PHP)
A partial hospitalization program is considered to be the most intensive type of outpatient drug rehab. It usually lasts five to seven days per week, with around four hours of therapy each day. PHPs may be best suited for people who do not have a strong support network at home or who want more structure in their outpatient treatment.
Patients typically attend a PHP after completing an inpatient rehab program, or if they need more intensive treatment than what is available in an outpatient treatment program. After completing a partial hospitalization program, patients usually move to a less intensive form of outpatient care to continue their journey toward recovery.
A PHP includes many of the same therapeutic approaches that make up the treatment of IOPs and traditional outpatient programs. This includes both group and individual therapy, as well as medication management when necessary. However, PHP therapies are typically more intensive and include more activities than what is found in other outpatient treatment programs.
Who Can Benefit from Outpatient Addiction Treatment in MA?
Outpatient drug rehab may be the best option for people who have mild to moderate addictions and are able to commit to a regular schedule of treatment. Although outpatient addiction treatment does not require as much of a time commitment as inpatient care, patients will need to be able to attend regular sessions and drug tests to reap the benefits of this flexible treatment option.
Some of the other benefits of outpatient treatment are:
Affordability
Convenience
The ability to continue working
Outpatient Treatment Addresses Various Addictions
While outpatient treatment is usually recommended for those who are not severely addicted, it's important to note that patients who have milder substance abuse challenges are still at risk of relapse. Subsequently, this is why early intervention through substance abuse treatment is so important. An outpatient treatment program can treat substance use disorders such as:
Regardless of the substance being abused, addiction treatment programs can free you from the grip a substance use disorder may have over your life. Outpatient treatment can address any substance misuse problem a person is facing. With an individualized treatment plan, patients can develop social skills and improve their communication skills.
Therapy Options Available for Substance Abuse
Our addiction treatment center team takes each patient's specific needs into account as we develop your treatment plan. Our outpatient treatment program offers a range of evidence-based treatment options that include different types of therapy. Our therapeutic services include:
Our team is committed to providing the best possible treatment for our clients, regardless of what substance they're addicted to or how severe their substance use disorder is. Please don't put off finding treatment for your substance use disorder. Contact Chapters Recovery Center today online to learn more about the treatment options available.[/vc_column_text][vc_column_text]
Finding Hope at Our Outpatient Rehab in Massachusetts
At Chapters Recovery Center, we utilize The Big Book of AA to give our clients the healing they deserve. With the help of our outpatient drug abuse rehab program, our clients have the tools to move into the future with confidence and strength. If you're looking for an outpatient rehab near Boston, we offer a variety of treatment programs, including:
Alcohol addiction treatment
Drug addiction treatment
Alcohol Outpatient Treatment in MA
Individuals who suffer from alcoholism can receive the help they need here at Chapters Recovery. Unfortunately, this substance use problem is very common in our world today. But our rehab facility is here to help end this struggle in the lives of those who come to us.
Addiction centers like Chapters Recovery fight alcoholism and help individuals develop relapse prevention skills. With our help, you can overcome alcohol use disorder today. We offer an outpatient alcohol addiction treatment program for those struggling with this substance use disorder in Massachusetts.
Drug Addiction Treatment in MA
Drug addiction comes in many forms. Some people suffer from cocaine addiction while others deal with prescription drug misuse. In any case, however, drug rehab is an important component of the recovery process. Whatever the substance use disorder is, we can help through our outpatient drug treatment.
Individuals who are suffering from drug misuse can find the hope and help they need here at our outpatient drug treatment center in Danvers, Massachusetts. Addiction centers like ours work to put an end to drug abuse and addiction.
So, if you are struggling with any type of drug use disorder, allow us to help you today. Let our outpatient treatment approach help you jumpstart your recovery. We offer a men's rehab program, as well as a women's rehab program for people who prefer gender-specific treatment.
Get Help at Chapters Recovery Center
Today, you can begin your new chapter of life. Whether you need treatment for solely substance use or mental health challenges that accompany substance abuse, we can help you. Our treatment center is committed to treating people from all walks of life who have a common need: freedom from substance use.
We offer various treatment programs to help our clients overcome substance use. If you need outpatient drug treatment, our outpatient treatment program is here for you!
Perhaps you're looking for medication-assisted treatment to help you combat substance abuse in your life. Look no further than our MAT program. We can help you work through withdrawal symptoms and begin your journey to recovery.
If you have been searching for treatment centers that offer outpatient treatment programs, please contact Chapters Recovery Center today. Our treatment providers are here to walk with you on the road to recovery.
The outpatient addiction treatment program at our facility can help you fight substance misuse. Allow our outpatient drug rehab center in MA to help you find freedom and healing.